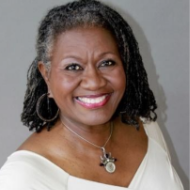 Ms. Littlejohn is a seasoned collaborator, facilitator, organizational development leader, and DEI practitioner who is successful in working with several fortune 500 startups, creating & facilitating homogenous affinity groups, and coaching leaders and individual contributors to transform and reveal their compassion and boldness while creating and supporting diverse, equitable, inclusive, and just work environments that allow everyone to bring their whole self to work.
In her DE&I practitioner role, Ms. Littlejohn works with clients to support them in getting comfortable with the uncomfortable conversation using affinity groups, tools, and practices to encourage authentic conversations for more productive safe spaces.
Ms. Littlejohn has pursued advanced degrees that support her varied interests; she holds an M.Cs. degree in Consciousness Studies from Holmes Institute; an M.S. in Human Resources Development from American University/National Training Laboratories (applied behavior science); an M.Ed. in Supervision and Administration from Lehigh University; and a B.S. degree in sociology from Norfolk State University.